The Sport
Orienteering is the sport of navigating unknown terrain with a map and compass. The object is to travel between a series of points as quickly as possible. Choosing routes between these points is the challenge, often the best routes are not the shortest or most obvious. Your course may take you over streams, through swamps, and into thickets, but it can also be through beautiful open woods. It is the person who can plan and execute the best route choice that will come away the winner. For more about orienteering check out the International Orienteering Federation or the US Orienteering Federation.
The Game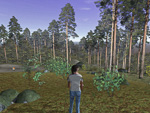 Catching Features is an orienteering game you can play at home. Use it for rainy-day training or rest-day enjoyment. Several different modes of play are available. Individual courses are run with interval starts against computer opponents, or with a mass start against lots of them. Relay events allow you to run one leg of a forked relay course.
Each course you run will earn you a number of ranking points based on the other runners that day. By earning more points you can unlock additional events to run.
Internet play allows for races against human opponents all over the world in real time. Race against your friends in a virtual competition! And you thought you didn't have anything to do at work...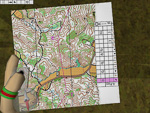 Can't coordinate a multiplayer game against anyone else, but still want to compare times? Competitions mode allows you to download and run a race whenever you can, then your splits and route choice are automatically uploaded to the CF server for everyone to see and compare!
A random map generator lets you create an endless supply of maps and courses to run on. You can run on a different map every day for the next 89 years...
A map editor is included with the full version of the game. Used for editing maps and planning courses, it allows full control over terrain, vegetation (down to individual trees and rocks), objects (tables, fences, boats...) and all other aspects of the map. An OCAD file converter lets you start building CF maps from your favorite local terrain.
You can also use the included Ocad Converter to convert your library of Ocad maps into playable CF maps! Train on your home forests!